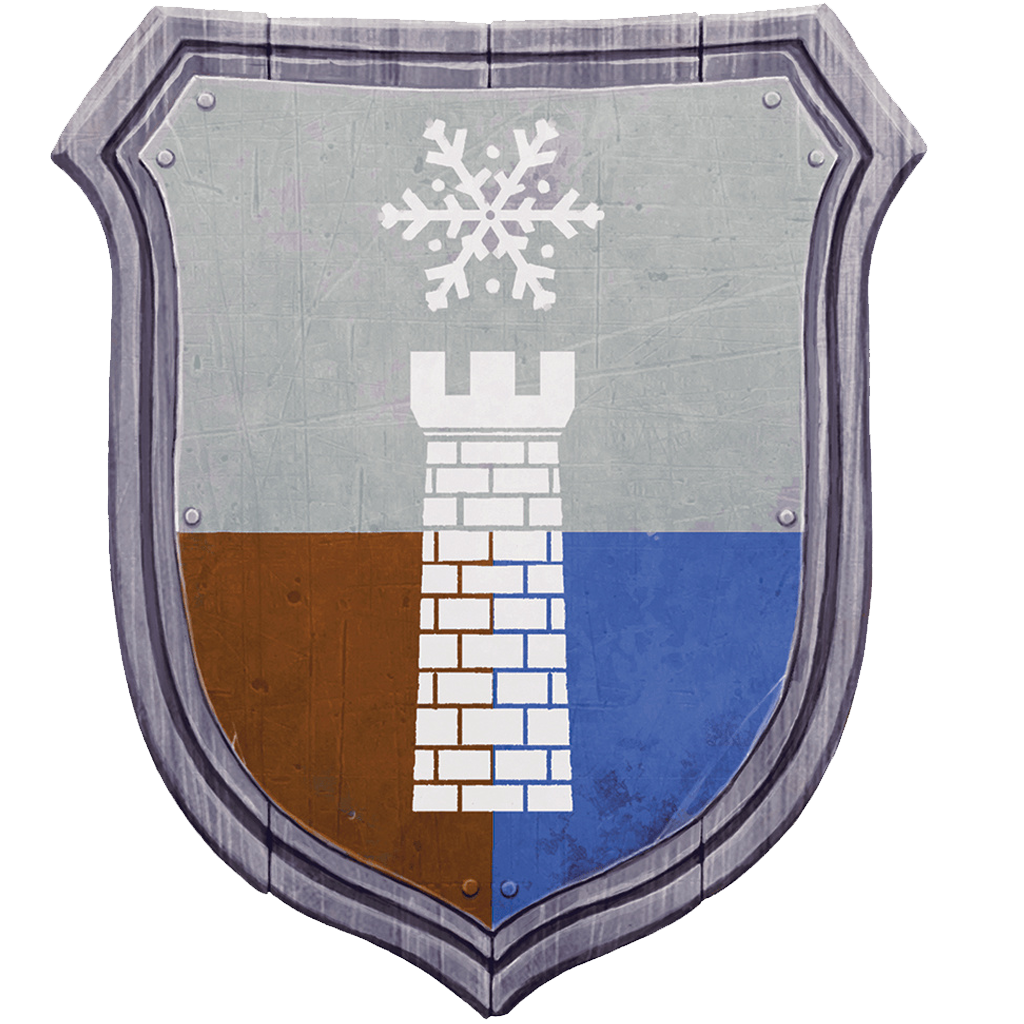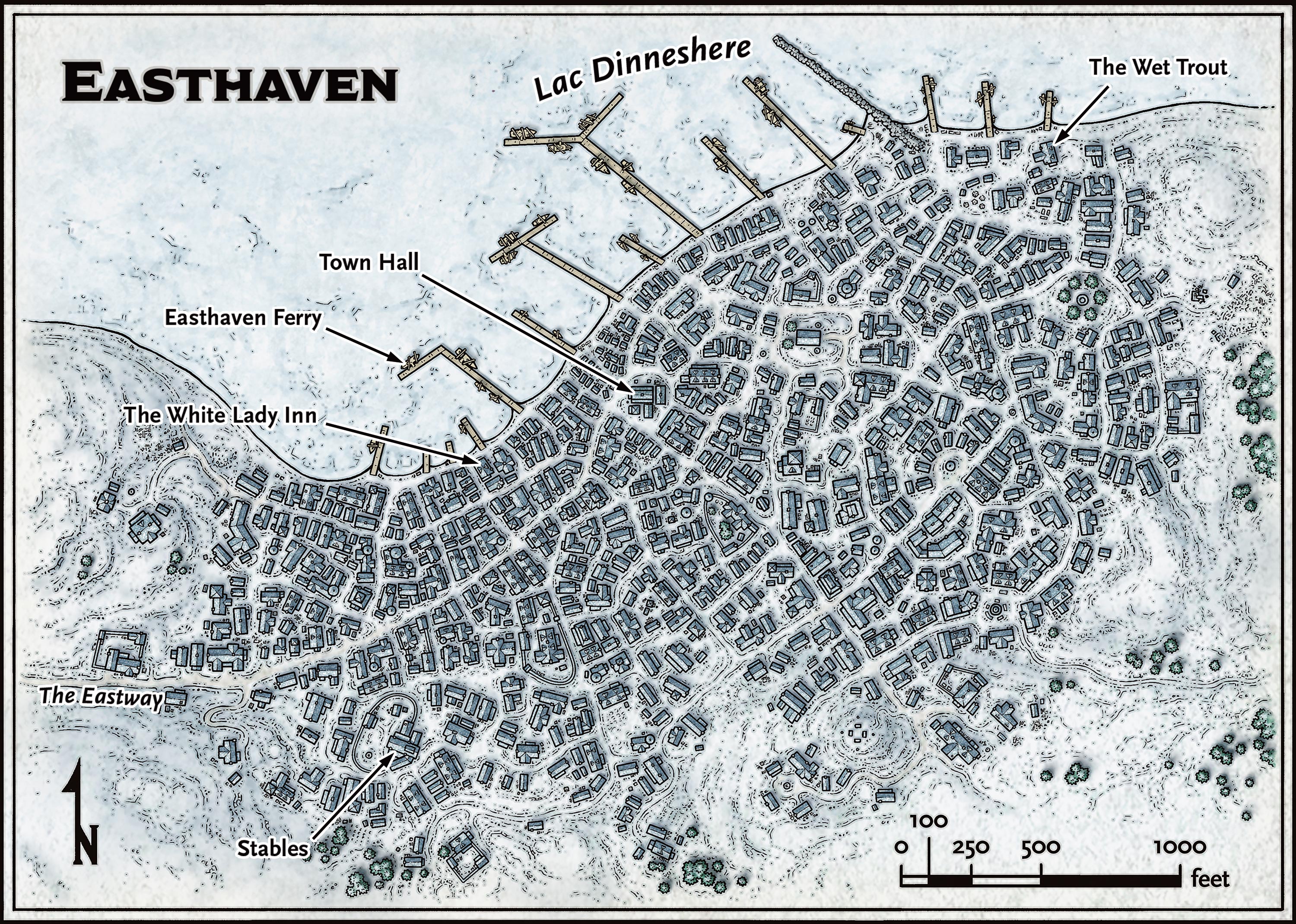 Characters
| Character | Role | Race | Age | Gender | Descriptors |
| --- | --- | --- | --- | --- | --- |
Locations
Town Hall
A two-story building that housed venues for gatherings, public records storage, and the local library. While the town was not truly lawless, the locals said that "anything goes in Easthaven." Pickpocketing was decidedly made legal throughout the town's history. Neverthless, convicts were routinely offered as sacrifice to the Frostmaiden, honoring an old tradition, and Easthaven could readily assemble a militia approximately 150 to 200 warriors strong.
White Lady Inn
Named after the cryptid White Lady. The Lady died while her husband was away, amassing a fortune for their shared future, and after her death, appeared at shore of the lake where they first met.
The Wet Trout
The largest and loudest of the town's taverns.
Easthaven Ferry
A once-successful business that had to be closed due to the Everlasting Rime.
Stables
Happenings
| § | Details |
| --- | --- |
| 16 | #battle #ToilAndTrouble When talk devolved into a blood price - either Easthaven's children or one of the party's own - battle ensued. The hags dropped their glamour, unveiling their true, horrid forms. The blue, crafted walls too were replaced by the filth of a cave home to monsters. And the feast of four swine turned out to be the four fishermen. Too bad Crank had a bowl earlier... perhaps worse that it tasted half-decent. As spells flew and metal clanged, Alice fell, followed by Maud who burst into a hundred severed hands. While cleaving through the crawling horde, the third hag, Anise, fled while invisible. She whispered her grudges in Azgul's ear before running past. In the end, the party successfully recovered the Cauldron of Plenty. |
| 15 | #ToilAndTrouble The party entered Easthaven around dusk after hearing about missing sailors on Lac Dinneshire. Crank recalled that it'd be wise to watch your pockets: pick-pocketing is legal in the town, unless you're caught red-handed. The settlement honors the tradition of sacrifice since its frontier days, but only offers convicts to the goddess of cold. |
| 15 | #DzaanIsDead An execution was taking place in the town square. Throngs of Easthaven residents were gathering near a wood pile just set ablaze, relishing in not just its heat but the death of the Red Wizard Dzaan, who the party caught sight of as he went up in flame. Dzaan's eyes frantically scanned through the crowd, glazing over his Arcane Brotherhood colleagues, Vellynne Harpell and another, soon to be introduced as Avarice, before locking on Azgul's. Perceptive party members saw Azgul's eyes widen and pupils dilate ever so slightly. |
| 15 | #DzaanIsDead #ToilAndTrouble The elvish Captain Imdra Arlaggath and human town speaker Danneth Waylen were overseeing Dzaan's execution. Waylen left soon after the fire was lit, but Imdra remained with her town guard. Azgul approached the captain with Hazel surreptitiously shadowing him. Azgul learned from Captain Arlaggath that Dzaan was executed, using wood no less, as a warning against evil in the realms. The red wizard had been convicted of murdering four Easthaven adventurers, who he had reportedly hired several weeks ago for expeditions into the tundra. His belonging were confiscated from his lodging at the White Lady Inn and taken to the Town Hall, though Arlaggath kept two magic items for herself as a prize for his arrest. Arlaggath was willing to part with an item as a reward for investigating the missing sailors of Lac Dinneshere. |
| 15 | #DzaanIsDead Azgul approached Vellynne and Avarice, searching for answers about his former tutor's death, and specifically, about the whereabouts of his books. How Dzaan had been arrested seemed to make Vellynne uneasy. She had come to town to parley for a mitigated sentencing and to speak with Dzaan about his findings, both of which attempts had been denied. Avarice laughed that the well-read illusionist must have been a fool for meeting such a fate, and seeing that the event had ended, took her leave. Azgul thought her an asshole, and Vellynne admitted she was a haughty but powerful prodigy. Vellynne was staying at the White Lady Inn |
| 15 | #DzaanIsDead At the White Lady Inn, the party secured rooms and supper from the innkeeper Bartaban for 2gp a head. Dzaan's former room had been completely tossed and searched. Upon investigation, a note with four names was found under a dresser: Hank Berylbore, Meryl Diane, Gurth Miodal, and Faith. Fern believed the last name was typical of a tiefling. No, not Astrix. |
| 13 | The party left Targos the dawn after dispatching Sephek Kaltro before news about the scuffle at the warehouse spread. They decided to head to Easthaven to follow Arcane Brotherhood activities as well as pursue several quest leads in the paper. Notably, they deduced Cora Mulphoon's lost son Huarwar, who was last seen with shady figures, may be located in the sanctuary stronghold of Caer Dineval or ruins of Caer Konig. |
| 10 | #ArcaneBrotherhood The party spent the morning in Lonelywood, picking up rumors and reading the Ten Towns Times. They wondered whether to pick up some coin in Bremen, where sighting of a lake monster in Maer Dualdon had scared off fishermen. They also considered the tale of missing sailors near the eastern Lac Dinneshere, and recalled that Easthaven is where Vellynne Harpell had set off to capitalize on Dzaan's misfortune. There was still a killer on the loose, too. Ultimately, the party decided to chase down the golden burst of light they had seen from atop Kelvin's Cairn several days ago. |
| 07 | #ArcaneBrotherhood Azgul revealed a particular bodypart to Vellynne Harpell, somewhat surreptitiously. Thus ensued a conversation about the Brotherhood mage Dzaan, who while she is reluctant to help (her coalition's mages are more competitive than co-operative colleagues), was apparently drawing more ire and attention than was necessary in the town of Easthaven. She was heading there to see if she could capitalize on assisting her colleague - and in exchange - be entitled to any knowledge he has procured. She thanked the party for purging the mine and providing her such lovely henchmen before departing. |
| 01 | #ColdHeartedKiller Hlin Trollbane had entered the tavern. Observing the party for a while, the veteran bounty huntress approached the party with a warning and request: murders were occuring in IWD. One in Easthaven a month back, another here in Bryn Shander two weeks ago, and one recently reported in Targos. |